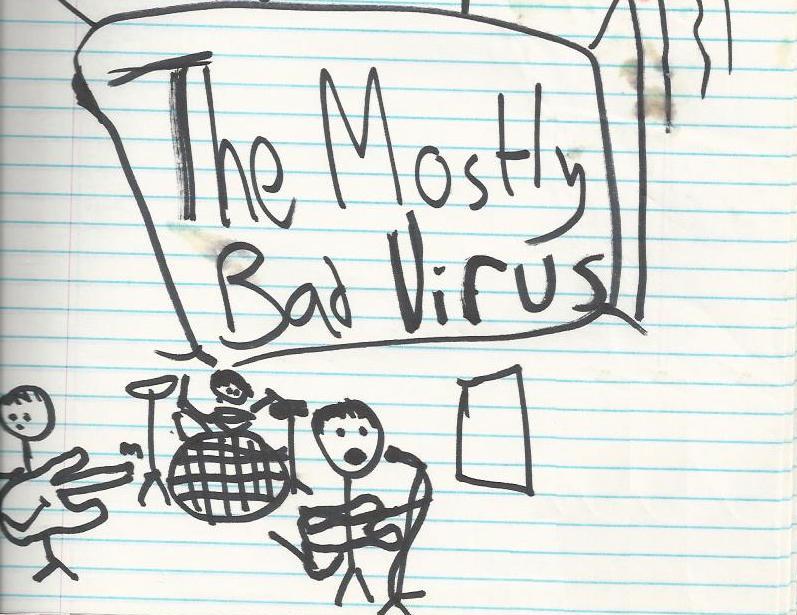 The Mostly Bad Virus is a trio whose members began playing together in the spring of 2005. Not long after, they were featured on MIT's college radio station. They have entertained many house parties from as far south as Richmond, Virginia and as far north as the Poconos. Mike Hamilton plays bass, Guido DeHoratiis plays drums, and Greg Reinfeld plays guitar. They are a garage band and are best described by a diamante poim:
the mostly bad virus
boisterous, explosive
tambourine, cowbell, bass solo
blistering, pounding, pulsating, wailing
harmonization, electricity, mayhem
industrious, relentless
the mostly bad virus
[email]
The MBV discography is now available on fushplayer as well as the classic web version below!
E = mbv2
Track
Player
Download
Office Politics at the Old Philharmonic
mp3
Summer Reading List
mp3
Run-In with the V.C.C.S.S.
mp3
Bluesman Impostor Blues
mp3
Slacker/Moneymaker
mp3
How Not to Tell a Story 101
mp3
Song on Maracas
mp3
Joys of Public Transit
mp3
Get Gone, Diabete, Get Gone
mp3
(recorded on February 11th, 2012)

- features backup vocals by Mike and Guido -
[previous releases]
Convincing Tones
Good Enough for Rock'n'Roll
The Inimitable Virus Brothers
Maxwell Gets Down, Volume 1
Mostly Acoustic
Clean Trash
Noise and You
Long Live the Mostly Bad Virus


Convincing Tones
Track
Player
Download
Judy Is Judy Is Christopher
mp3
I Belong in a Padded Cell
mp3
Heartbreak Run
mp3
Legend of the Five-Day Man-Beast
mp3
Biopic Hitman
mp3
The Future Mrs. Whatever
mp3
(recorded on October 24th, 2009)
Good Enough for Rock'n'Roll
Track
Player
Download
Welcome to the Hippo Pit
mp3
Why My Dog Is Called Pile of Bricks
mp3
Higher and Deeper
mp3
Jonathan Swift
mp3
Jammibeans
mp3
Moon Learning
mp3
Narcotic Signals
mp3
Pickup Lines
mp3
The Untimely Fake Death of Hipton Prescott
mp3
Stargazing
mp3
Folk Child's Blues
mp3
Stop Rooting for the Hometeam
mp3
Caffeine
mp3
Bigger Fish
mp3
All Aboard the Combover
mp3
(recorded during February 2008)

- features backup vocals by Mike and Guido -

For the whole album in one file:
Good Enough for Rock'n'Roll
The Inimitable Virus Brothers
Track
Player
Download
High School (Makes Me Wanna Cry)
mp3
Ninja Whisky
mp3
Jammibeans
mp3
East Coast/West Coast
mp3
Flying Sideways out of Buildings
mp3
Folk Child's Blues
mp3
Why My Dog Is Called Pile of Bricks
mp3
Robot Love Part II (Estella)
mp3
Moogiles the Prophet
mp3
Humanzee
mp3
(live recording from September 2007)
Maxwell Gets Down, Volume 1
Track
Player
Download
Whiskeybreath
mp3
Ballad of the Crooked Cop
mp3
Less Is More Is Not Enough
mp3
Flying Sideways out of Buildings
mp3
Disappearing Canine Blues
mp3
The Chicken, the Egg and the Holy Ghost
mp3
Humanzee
mp3
Blind Man's Bluff
mp3
(recorded on December 16th, 2006)
Mostly Acoustic
Track
Player
Download
The Chicken, the Egg and the Holy Ghost
mp3
Whiskeybreath
mp3
Moogiles the Prophet
mp3
Missing Link (Ode to Bigfoot)
mp3
Disappearing Canine Blues
mp3
Humanzee
mp3
Blind Man's Bluff
mp3
Ninja Whisky
mp3
Ballad of the Crooked Cop
mp3
(recorded on September 29th, 2006)

- features backup vocals by Guido -
Clean Trash
Track
Player
Download
All They Teach Us in School
mp3
Governor's Sleeping
mp3
Don't Get Superstitious if the Circus Never Comes
mp3
Get a Room
mp3
Life in the Ocean
mp3
Crazy Eights
mp3
Logic of the Chainsaw
mp3
Ninja Whisky
mp3
High School (Makes Me Wanna Cry)
mp3
Moogiles the Prophet
mp3
Pair Off and Multiply
mp3
Robot Love Part II (Estella)
mp3
(recorded on November 23rd, 2005)
Noise and You
Track
Player
Download
Flashback
mp3
Agnostic's Hymn
mp3
Letters Home
mp3
Humanzee
mp3
How to Play Egyptian Ratscrew
mp3
Bed and Breakfast in the Forest of Resurrection
mp3
(recorded on August 28th, 2005)
Long Live the Mostly Bad Virus
Track
Player
Download
East Coast/West Coast
mp3
Collection Plate
mp3
Daddy's Home
mp3
Hypochondriac
mp3
Less Is More Is Not Enough
mp3
Make My Boredom Disappear
mp3
Missing Link (Ode to Bigfoot)
mp3
My Spanish Teacher Ran Away
mp3
Robot Love Part I
mp3
Rock and Roll Mansion
mp3
Southern Cuisine
mp3
Telescope
mp3
The Hollywood Ecology
mp3
Whiskeybreath
mp3
The Premature Ejaculation Blues
mp3
(recorded on June 27th, 2005)

My Spanish Teacher Ran Away features Suzy DeHoratiis on maracas.

Discography 2005 to 2009

This zipped folder contains all 8 albums.
CLICK HERE to download.



[misc mp3s]

Clean Trash outtakes
East Coast/West Coast
Missing Link (Ode to Bigfoot)

Live in 2005
Rock and Roll Mansion
Daddy's Home
My Spanish Teacher Ran Away
The Hollywood Ecology





Greg Reinfeld's website
(solo recordings, cookbook, comics, miscellaneous artwork)